The RGP Catalog Builder
Robin Glenn Pedigrees' RGP Catalog Builder is set to revolutionize the performance horse sale industry.
July 4, 2017
By Robin Glenn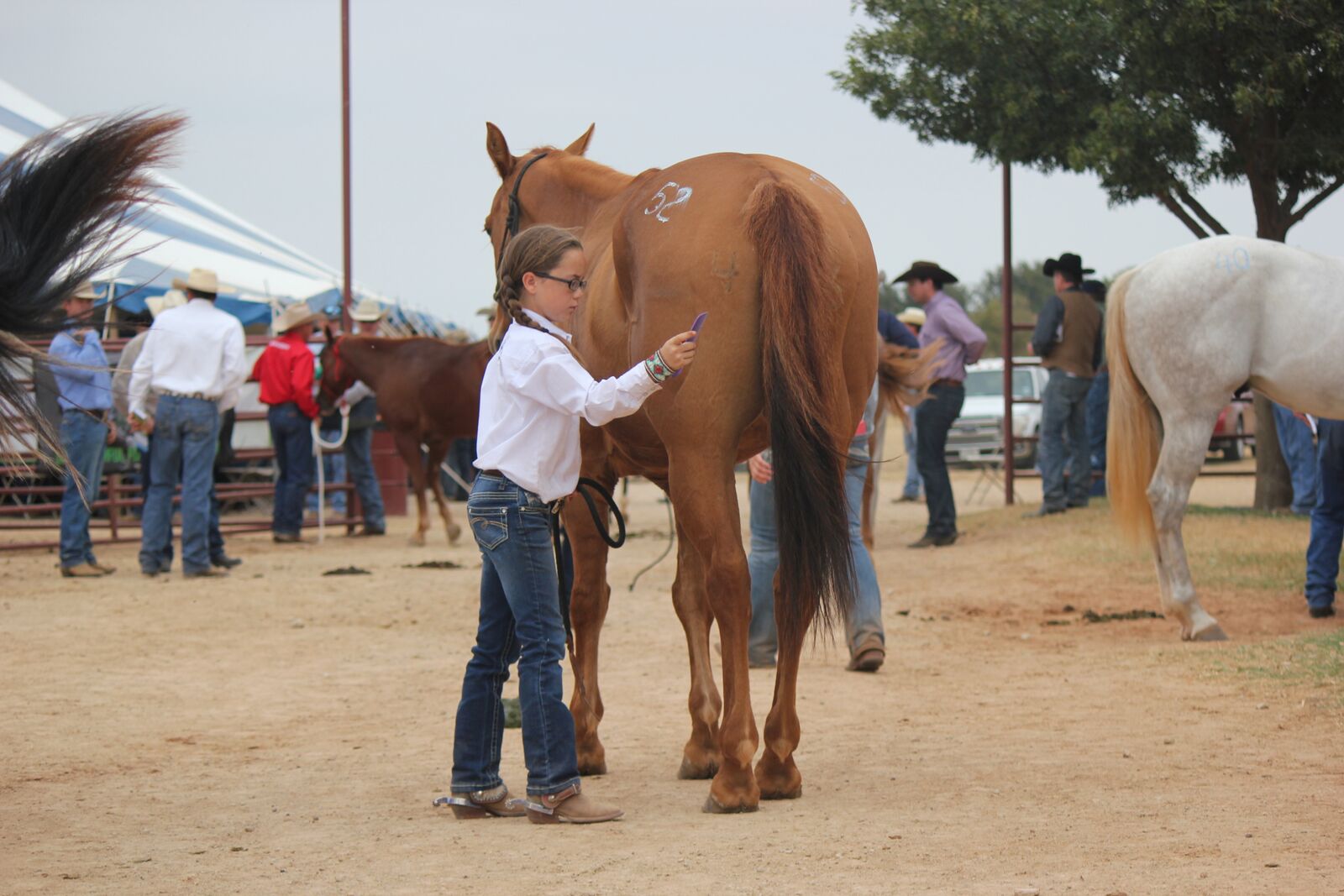 Photo courtesy of 6666 Ranch.
To all those who have suffered through grinding out a sale catalog: I have felt your pain. Although the catalog production process at Robin Glenn Pedigrees has been partially automated for a number of years, I researched my first catalogs on a typewriter and a card table using AQHA records on 14-inch paper that arrived by mail or Fed Ex. I should say the typewriter was used after the family tree was researched one name at a time in the old green AQHA Stud Books, hand-written on a bracketed "tree tablet," and the sale horse, sire and dam paragraphs were hand-written on a yellow tablet.
After graduating to an electronic typewriter with an erase key (a really big deal), I bought RGP's first computer in 1983, a black and white Xerox that held 8 megabytes of data. I remember asking the salesman, "What if we fill this up?" His disdainful reply was, "You'll never fill it up." A year later, a programmer furiously worked to salvage the original RGP Database after the computer crashed from being full. No one had told me I was supposed to back it up!
Wow, has mankind come a long way or what! Particularly in the past decade, electronic innovations seem to be moving at the speed of light. "There's an app for that" applies to just about everything, and all businesses and organizations are learning that today the world expects not only automation, but autonomy.
From the time I saw what that first computer could do, and especially after the Internet arrived, I dreamed of integrating the RGP Database with AQHA's database and automating the sale catalog process. As with most of my career, the magnitude of that endeavor escaped me until it was too late to turn back. But after decades of dreaming and spinning logic in my head, thanks to AQHA's visionary purchase of Robin Glenn Pedigrees, it has been done for the performance horse business.
Utilizing the money-paying events in the Robin Glenn Pedigrees Database and combining that with AQHA's massive database, the RGP Catalog Builder compiles fully researched catalog pages with a few clicks, ensuring that all horses on the page get credit for every dollar and AQHA point earned. Auctions offering fully researched catalogs have historically been more successful, and the Catalog Builder makes that possible for everyone.
Released in 2016 and considerably expanded and enhanced since then, the RGP Catalog Builder is a complete catalog production and management tool. From computer-generated pedigree pages to an instant Internet presentation, catalog indexes, easy photo and video management and even a presence on the innovative RGP Catalog App, the RGP Catalog Builder has been carefully and thoughtfully designed by the American Quarter Horse industry's ultimate sale catalog experts. We have truly tried to think of everything, and I like to say, "If you can order something on Amazon, you can operate this program." OK, it's a bit deeper than that, but it's still a very easy program to get around. Miles of code have been written for the sole purpose of making things easier for the user.
The process of creating a catalog is simple: to get started, you only need your American Quarter Horses' names and registration numbers, or if the horse is not registered yet, its sire and dam information. The program currently offers a Basic Pedigree, Ranch Pedigree or Paragraph-style Pedigree ("black type" is in the works), and it will ask you to pick a style and layout design prior to building your catalog. Once you have decided on the pedigree type and style, you fill in a few blanks to create your catalog. Then you can start inputting your horses, or you can skip the hand-entry and import all the horses at once from a spreadsheet. Shortly after you enter a horse's name and number, a fully researched catalog page is available for review. If you have 100 horses, the pages might take a few hours to generate – remembering that 100 catalog pages used to take a few weeks.

Show earnings, points and awards are ranked and listed for both the subject horse and the horses in its family. If a sale horse has a long list of accolades extending beyond the page, you can either edit the information yourself or hit the "Make It Fit" button, a ground-breaking electronic pedigree editor designed by RGP's own Sue Treece, who has been with the company since 1994. For those who prefer to customize their own pages (we get that), a set of RGP data reports is attached to each horse's worksheet. The RGP Catalog Builder also creates catalog indexes, covering sire reference paragraphs and captioned photo collages, assigns hip numbers and generates printer-ready stall card art.
A huge time and money saver feature is the instant Internet listing with sale-horse information, photos and video links. The program accommodates inclusion of other breeds and even equipment and tack and once your catalog is finalized, a printer-ready version can be produced with one click. Two more clicks send the catalog to the RGP Catalog App for smartphones and tablets, which offers the ability to take notes, rate horses, make lists, take videos and pictures. You can even email your take on a horse to a customer right from the app.
Do you know any young people who dream about sitting and typing pedigrees for 70 hours a week during sale season? We don't either. But it's all good, because the RGP Catalog Builder has arrived to make what was a really tough job quick and easy.
For more information, visit http://catalogs.robinglenn.com/.