Google Chrome & Firefox work better than Internet Explorer on this site.
Pop-up blockers must be turned OFF for the Online Reports System.
the only database of its kind in the world • horses • performance lines
Total Horse Earnings in the RGP Database: $
For E-Research, rotate iPhone or choose Access Account (above)


[contact-form-7 404 "Not Found"]
Please be sure and turn your pop-up blocker off for this site
---
History
3 Easy Steps To Upload Your AQHA Research:

1. Click on Choose File (below)
2. Click Upload
3. Retrieve your completed/parsed files in Order History.

NOTICE: Only text files (.txt) may be submitted!

To update AQHA Incentive Fund money, you must submit an AQHA record to the Parser. After you upload your AQHA sire records, go to the other service and run a regular sire report, and the system will only charge you the regular report price (the top 10, top 50, or all foals record price). If you run both within a 24-hour period, it will not charge you twice.

Only the following AQHA Volume User Record numbers work on the Parser:

075 ($0.25 each foal)
070 ($0.25 each foal)
071 ($0.25 each foal)
090 ($0.25 each foal)
095 ($0.25 each foal)
100 ($11 each report)
101 ($9 each report)
102 ($10 each report)

080 ($5 each report)
082 ($9 each report)
---
| | |
| --- | --- |
| | |
| | |
| | For the past 30 years, Robin Glenn Pedigrees has compiled results from Cutting, Reining, Reined Cow Horse, Ranch Horse, Western Pleasure, Longe Line, Hunter Under Saddle and more. All available online! |

| | |
| --- | --- |
| | |
| | |
| | Catalog-Style Pedigrees and Stallion Stat pages prepared personally by Robin Glenn Pedigrees staff. |
---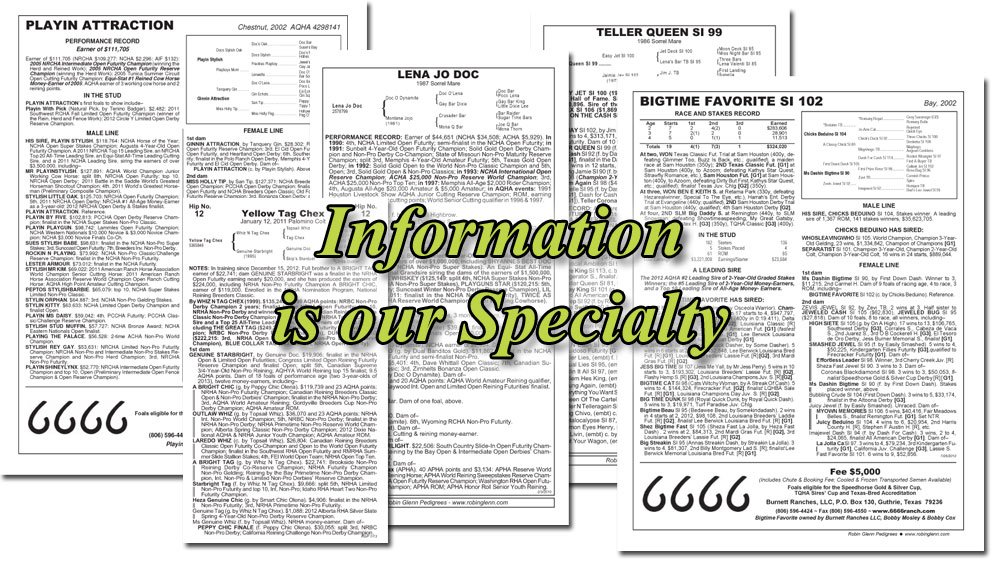 Click on E-Research
COLOR CODED FOUR-GENERATION DAM'S PRODUCE REPORTS
Foals, Grandfoals and Great-Grandfoals
1-Dam, 2-Dams or 3-Dams

Sale Catalogs
Active sale catalogs will be available on-line approximately one month prior to each sale.
Archived Catalogs with Results are available on the RGP Catalog App.

---
TQHA Annual Yearling Sale
July 24 – 25, 2015
NCHA Summer Spectacular Sale
August 1, 2015
Ruidoso New Mexico Bred Sale
August 21 – 22, 2015
Ruidoso Select Yearling Sale
September 4 – 6, 2015
---